Japanese Knotweed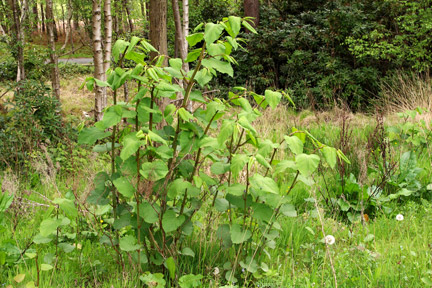 Japanese Knotweed On The Increase In Bristol
With the Warmer weather there will be an increase in the growth rate of this highly invasive plant.
During a number of recent survey inspections we have come across instances of Japanese Knotweed growing in the gardens.
What Are The Consquences Of Finding Knotweed?
The consequences of finding Knotweed are only just becoming known to the general public as until now outbreaks have tended to be restricted to clear sites. Knotweed is very fast growing and was introduced in Victorian times as an ornamental plant. It is extremely invasive and even a small piece is able to re-grow making removal difficult. The plant starts with purple shoots and quickly grows into 3 meter plants with purple speckled strands roughly resembling bamboo canes. The plants are able to cause structural damage to buildings.
Japanese Knotweed - What Are My Responsibilities?
You have a legal responsibility not to allow it to spread and under the Environmental Protection Act 1990 it is listed as "controlled waste" and needs to be disposed of properly. Removal techniques involve treatment on site which can take 2-3 years or removal of the soil and affected area which can be very costly. Finding Knotweed can and has caused a number of house sales to fall through and a quick response in terms of its treatment and removal is essential. The provision of a treatment plan will be essential to satisfy any mortgage valuer although there are instances where Mortgage lenders have decided not to lend on properties with the problem.
Tim Maggs MRICS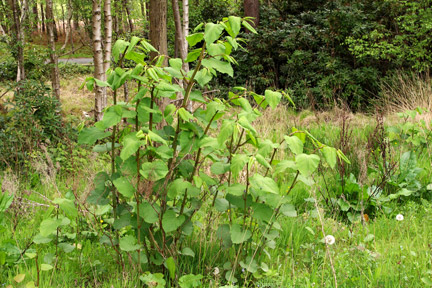 When buying or selling a property a few pounds spent on a survey can save you thousands of pounds in the long-run. Identifying Japanese Knotweed in a Bristol based property is such an example.
Japanese Knotweed and Selling My House
If you have even the slightest suspicion that you may have knotweed in your Bristol property - call us. We can conduct a full survey and either put your mind at rest, or advise you on how to start to work on the problem. Having Japanese Knotweed in your Bristol property will not necessarily stop any potential sale, but provision for treatment must be proved.
Buying a House With Japanese Knotweed
If a potential property you are considering buying is identified as having 'knotweed' then there are steps you must take. You must notify your mortgage provider and, based on a number of factors, will decide if they will lend funds against the property. If you have found the perfect property and will not let knotweed put you off - early identification of the issue is essential. As soon as you have decided a property might be the one you wish to buy - contact us to arrange a full survey.
Most property sales fall through because the knotweed was identified very late in the purchase, and some property buyers have chosen to find another property to buy ranther than 'break the chain' or lose the buyer of their own property.
More information on Japanese Knotweed
It is listed by the World Conservation Union as one of the world's worst invasive species.
The invasive root system and strong growth can damage concrete foundations, buildings, flood defences, roads, paving, retaining walls and architectural sites. It can also reduce the capacity of channels in flood defences to carry water.
In the UK, Japanese knotweed is established in the wild in many parts of the country and creates problems due to the impact on biodiversity, flooding management and damage to property.
It is an offence under section 14(2) of the Wildlife and Countryside Act 1981 to "plant or otherwise cause to grow in the wild" any plant listed in Schedule nine, Part II to the Act, which includes Japanese knotweed. As mentioned above, it is also classed as "controlled waste" in Britain under part 2 of the Environmental Protection Act 1990. This requires disposal at licensed landfill sites. The species is expensive to remove; Defra's Review of Non-native Species Policy states that a national eradication programme would be prohibitively expensive at £1.56 billion.
The decision was taken on 9 March 2010 in the UK to release into the wild a Japanese insect, Aphalara itadori.Its diet is highly specific to Japanese knotweed and shows good potential for its control.
At Maggs and Allen Chartered Surveyors, based in Bristol, we are specialised in identifying Japanese Knotweed for 'Vendors' and 'Purchasers'. Call today and book a full survey on 0117 973 4940